Plugin Wordpress de protecion contre les attaques SQL et inclusion de fichier
Notre plugn « gratuit » LBStopattack est un plugin léger pour se protéger contre les attaque SQL et tentative d'inclusion de fichiers.
Se plugin très simple à paramétrer et très léger, vérifier à chaque appel d'une URL de votre site (front-end et possible de contrôler également le back-end) s'il y a une suspition d'attaque
Possibilité de vérifier :
Les attaque SQL
Les tentatives d'inclusion de fichier
Possibilité de vérifier les POST, GET et REQUEST
Possibilité de se faire envoyer un e-mail de notification pour chaque attaque avec le détail de l'attaque
Possibilité de bloquer l'attaque en lançant une erreur 500 ou une redirection sur un site extérieur (pourquoi pas celui du ministère de l'intérieur !!)
Possibilité de bloquer les adresses IP d'où provient la ou les attques (durée de blocage paramétrable)
---
Wordpress SQL attack and file inclusion protection plugin
Our "free" LBStopattack plugin is a lightweight plugin to protect against SQL attack and attempted file inclusion.
This plugin is very simple to set up and very light, check each time a URL of your site is called (front-end and possible to also control the back-end) if there is a suspected attack
Possibility to check:
SQL attacks
Attempts to include a file
Possibility to check POST, GET and REQUEST
Possibility to be sent a notification email for each attack with the details of the attack
Possibility to block the attack by throwing a 500 error or a redirect on an external site (why not that of the Ministry of the Interior !!)
Possibility of blocking the IP addresses from which the attack (s) originates (configurable blocking duration)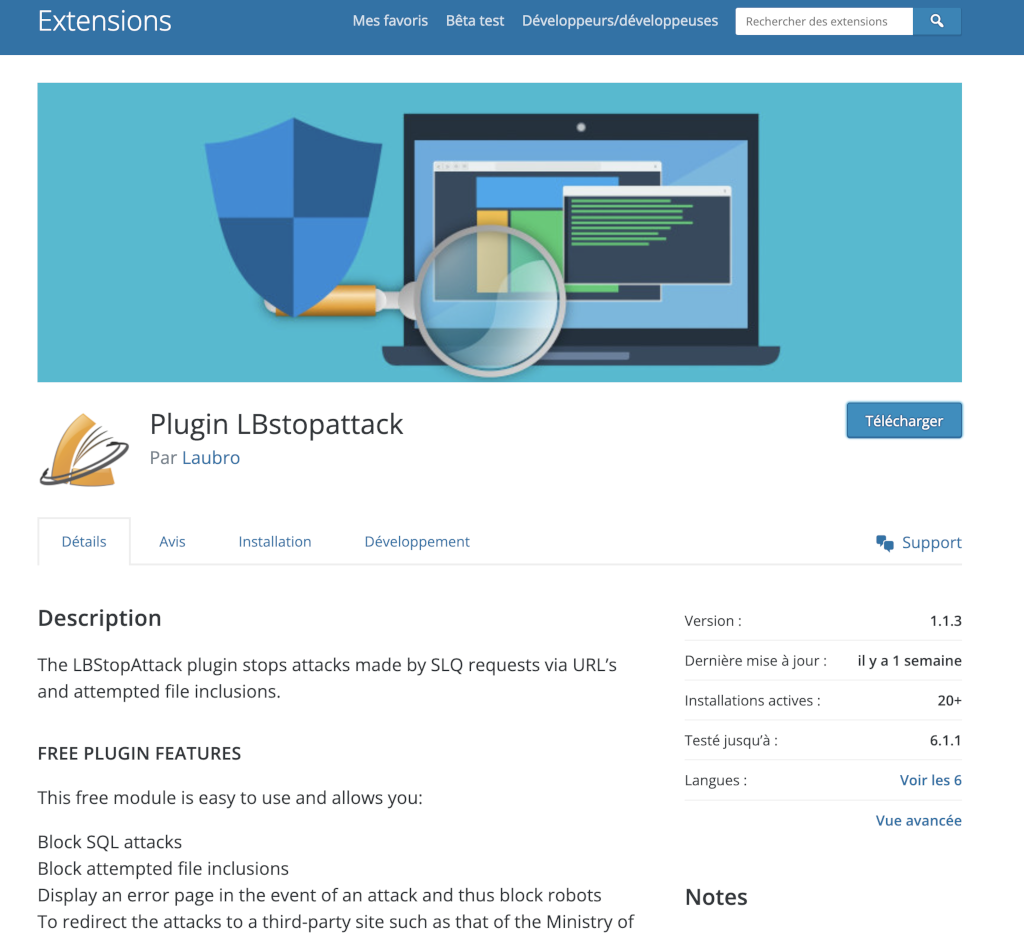 - Utilisez l'import de plugin de wordpress
--> Extentions -> Ajouter -> Téléverser une extention
-- > une fois importé, cliquez sur Activer
--> une fois activé cliquez sur le lien LBStopattack   dans le menu d'administration de votre site
---
- Use the wordpress plugin import
-> Extensions -> Add -> Upload an extension
-> once imported, click on Activate
-> once activated click on the LBStopattack link in the administration menu of your site